Famous Mosques in Tripoli :
HistoryOne of the oldest religious monuments of Tripoli is the Abdel Wahed mosque which surprisingly enough was not built by a Marnluk but by a Moorish holy man.It was among the many Sunni Muslims who traveled to the newly built Muslim city liberated at long last from Crusader rule . Tripoli was becoming a center of Islamic learning with its newly built Grand mosque and madrasahs. Abdul Wahed, the "Slave of the One (God)" is the only name by which this learned man from Meknčs near Fez is known. He attracted many disciples during his stay in Tripoli and in addition to his reputation for holiness he was also very clever and amassed considerable property in and around the city.

The prayer hall of his little mosque is plain with several arches rising up from huge central square pillars. The minaret is the first of its type in Lebanon and may reflect the builder's North African Arab origin. Besides the prayer hall is a small fountain court with Abdul Wahed's inscription placed in the wall over the ablutions' basin . It reads: "This blessed place has been built by the humble servant 'Abd al-Wāhid al-Miknāsi, may Allah forgive him and forgive his parents too (1305-1306) (A.H.705)."
Photo Gallery
Click on the image to go to the Photo Album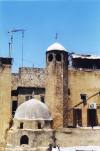 Photos By
Eng. Lamia KHAYAT
All Rights Reserved