Madrassah's to visit in Tripoli-Lebanon :
History
Across the street from the al-Saqraqiya is the al-Khatuniya madrasah with its handsome domed mausoleum . On the lintels above and between its windows are the coat of arms of its founders Emir Izzeddin Aydamur al-Ashrafi, na'ib of Tripoli in 1373 -1374 and his wife Arghun. This coat of arms contains a single chalice. It is repeated at both ends of the lintel but is hardly discernible and worn away with time. Facing north is the main portal with its elaborate inscriptions and decorative motifs . Above the door is a white marble plaque displaying anntricate geometric lacework design.
Izzeddin Aydamur al-Ashrafi appears to have been much older than his wife because he died in the year the construction of the madrasah and mausoleum was completed. It is Arghun, formerly a slave, according to the foundation act (waqef), who made the financial provisions for the endowment of the school she had founded with her husband and the mausoleum in which she wished to be buried by his side. She appears to have been very wealthy and in possession of important property holdings. Thus she willed the revenus from a market-place in Tripoli called Duhaisha where the silk weavers of the city were established. This was a magnificent construction with a façade of white and reddish stone. Nine adjoining shops were also bequeathed to the endowment fund, five domed chambers which probably served as store-houses as well as three shops facing the southern entrance to the market place. Near another market place, called "that of the merchants, Arghun donated two more shops. All these buildings were located in the city of Tripoli.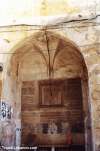 Photos By
Eng.Lamia KHAYAT
All Rights Reserved